Since the dawn of humanity, we've progressed through various economic offerings — from physical toils of the agricultural and industrial economies to the high-skilled labors of the service economy and, for the last 20 years, the experience economy.
First discussed in a 1998 article written by Joseph Pine and James H Gilmore, the experience economy dictates that,
"… businesses must orchestrate memorable events for their customers, and that memory itself becomes the product."


Joseph Pine and James H Gilmore
To which any of us who've done an escape room, shopped in an Apple store or attended Fyre Festival can attest. (Okay, maybe Fyre Fest isn't the best example.)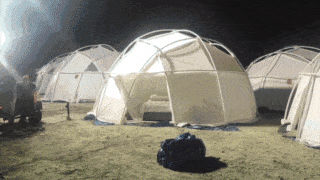 But as the world becomes increasingly digital, how can businesses and marketers create experiences that blend seamlessly online and IRL? At Look Listen, we recently had the chance to tackle this very challenge.
We were pitching a redesign for a luxury travel brand's website and saw an opportunity to not only show what we can do with design and development, but also to create an unforgettable experience. Here's how it played out.
Our potential clients each sat down to a personalized placemat and were given instructions to scan a QR code printed on their place setting. They were then taken to a brief quiz designed to uncover each person's travel persona. As they finished the quiz, we kicked off the presentation with a selection of interesting world wines.
Next, we walked the group through a demo of our proposed experience. This included an enhanced version of the travel quiz they'd just taken, which could be leveraged to both keep prospects on site longer and capture leads. On the site, the quiz results were gated, which our team mimicked by finishing the presentation with a ceremonial push of the submit button.
This triggered an email to each of our potential clients with their own quiz results and an explanation of their individual travel personas. As they were reading through the results, our ExperienceMakers™ (members of our Client Services team) delivered custom cheese boards to each person, with cheeses chosen to complement the personas revealed during the quiz.
The presentation wrapped with everyone enjoying a real-world manifestation of their chosen travel style. We won the business because we were able to place value on experiences — from microinteractions on the proposed new site to the surprise and delight of finding a bespoke wine and cheese flight at your seat — and show how to bring them to life online and off.
Have an idea for bridging experience and the digital economies or need some inspiration to get started? Drop us a line and let's have a glass of wine.
---